When I now go to the market I try to buy something new. And I try not to poison Martin and Eleanor with it but from looking at the fruit or vegetable, sometimes not knowing how to open it or cook with it is a battle.
This week I bought a pomelo (a citrus fruit like a big grapefruit) and a kind of pear thing, that I haven't eaten yet. Last week's food was like a courgette with knobbly skin, but sadly it ruined the dish I had cooked and tasted nothing like a courgette. After a consultation with friends on Facebook, the consensus by a few knowledgable people was that I had bought a Bitter Gourd and also that it was an acquired taste.  By the time I had found out what it was it had gone into my ratatouille. I may also have cooked with the wrong bit. Research done (after I cut it up) told me that I was meant to prepare the skin, gouging out the centre. It was the centre that I cooked. But it is ok we survived. It just won't be purchased again. It does however turn up mixed in with peppers and cabbage at school – it tastes foul and is to be avoided and picked out at all costs. 
Going shopping with Katie, my American friend is also interesting as of course we have different words. Eggplant/Aubergine – zucchini/courgette, cilantro/coriander.
Eleanor's words of wisdom for this week.
E "Why do you spent time with Katie?"
Me "Because we are friends."
E "But she is American."
Me "Does that matter?"
E "No."
Our shipping is now in Hong Kong! Estimated to arrive in Suzhou in 2-3 weeks. With any luck it will be here before December. Things that I am looking forward to having… my boots, winter coats and our Dartington fruit bowl which was an engagement present from my cousin. I want to put the Suzhou mandarin oranges in it as they are in great supply at the moment. Roll on January 2019 and in my fruitbowl just now are the oranges brightening up the place and tasting delicious. 
I am also looking forward to seeing what has survived and what has to be replaced. I am most worried about my fruit bowl  but now less worried about my le creuset mugs as I found a shop that sells Le Creuset in Suzhou. A shop that has been frequented to buy frying pans when we moved into boarding as the induction stove didn't like our other ones!
On Friday I went back to the e-bike shop to get my number plate. The bike is now registered and legal, but I do have to go back again to get my "boot" fitted. Turn your mind to a car dealership in the UK. Usually there is a waiting area with coffee and sofas, now let me take you to my e-bike shop. A back street courtyard, the bike has its plates fited and new lights (they hadn't lasted long!), the owner comes out of the workshop with a stool for Adrian and a chair for me. We sit in the courtyard and the woman disappears again and comes back with a packet of beetroot crisps for me.
Sunday was 30°C. Summer clothes were on. By Tuesday I was in tights, and by today I have put a jumper on. Travelling on the e-bike does mean though that I have jumpers on as it is windy, and I need a scarf – but where is that? Oh yes – in shipping. I have survived this long without missing anything, but as the weather does turn colder I am craving my autumn/winter clothes. Eleanor, for the past week has been in her winter uniform. The first day she wore it, it was roasting by lunchtime, but she swears she was fine in tights, long sleeve polo and pinafore.
On Saturday, Eleanor and I spent the day at Dulwich International High School Suzhou for the MegaMenger build. Simply… a large fractal built out of 48,000 business cards. The build took place all across the world – Tampere (Finland), Manchester, New York, Auckland, Boston, Bath and other places. A Menger Sponge is a three dimensional fractal which can be made by taking a cube and cutting out a square section in the middle. http://www.megamenger.com The pupils spent all week building cubes and then on Saturday they put them all together (without glue or sellotape) at 6.45pm we left – it wasn't complete, but the majority had been done. One pupil didn't sleep on Friday as he was making cubes. I spent Saturday folding the tabs for the cubes, and Martin appeared on Chinese TV.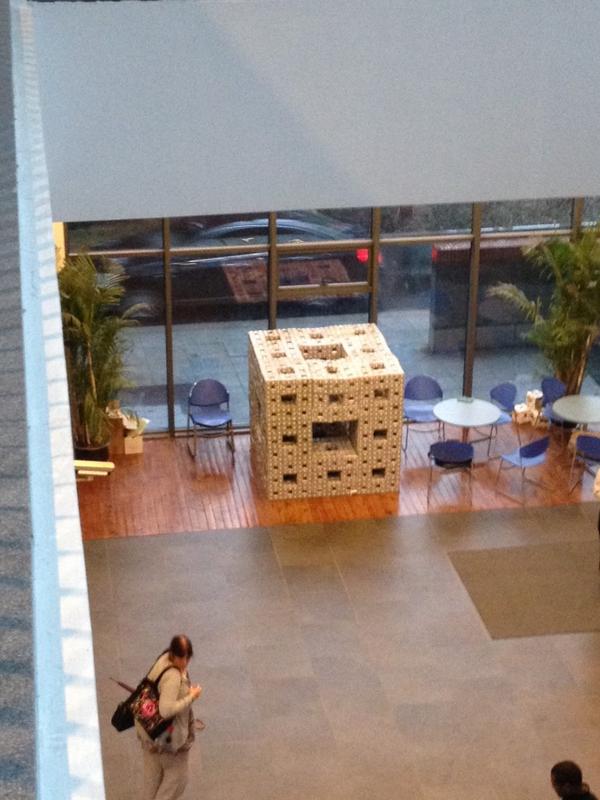 Eleanor is also singing Christmas songs at any given opportunity in Chinese, English and Korean. I am pleased that this singing is for a public performance with the Year 1 school choir at the Crowne Plaza hotel's tree lighting ceremony on 14th November! Can't wait.