When you have friends come out, you need to do something different, chances are they will want to do the same things that we have already done. For Tomb Sweeping holiday (our week's holiday in April) we stayed in Suzhou. We were awaiting the arrival of our lovely friend Kat. I first met Kat when preparing for our GOLD project to South Africa. GOLD is Guiding Overseas Linked with Development and as a group of 5 young women we went to SA for 3 weeks in the summer of 2003. We had a fabulous time teaching business skills to South African teenage girls and had many adventures on that trip alone to fill a blog. Now the GOLD groups have their own facebook page and regularly blog. Our trip – would have been bloggable (even a word?), we kept a diary every night but there are parts of that trip that remain between the 5 of us. Friendships were forged during that time, and Kat then met Martin – Kat is every bit of a geek as Martin is, they will even share maths jokes. So it was perfect when on New Year's Eve 2016 Kat made a New Year's Resolution to travel more…her first major destination would be China, first base Hong Kong, then us then Beijing.
Kat arrived on the Thursday of our holiday, Eleanor was at a sleepover, which was perfect as on the Friday we took Kat down Pingjiang Lu (road), an old part of Suzhou running parallel with a canal. Eleanor has done this many times, and would have complained if we had taken her again. We introduced Kat to squirrel shaped mandarin fish. A dish synonymous to Suzhou.
"This dish is so famous and so prevalent throughout China that it's now considered one of the emblematic dishes not only of Jiangsu cuisine, but of Chinese cuisine as a whole. Yet you wouldn't be the first person to be confused by its rather unusual name! According to local legend, the Qianlong Emperor of the Qing Dynasty was touring the area south of the Yangtze River when he decided to stop at a restaurant in Suzhou. The chef knew that he had to pull out all of the stops to impress the Emperor, so he took the meatiest mandarin fish, covered it in egg-yolk paste, and fried it before delicately cutting it, shaping it, and serving it with his homemade sweet and sour sauce. The Emperor praised the dish for its novel presentation and savoured the crispy golden strips of fried fish.
From then on, Squirrel-Shaped Mandarin Fish has remained one of the finest gourmet dishes in China. In order to make the dish, the chef first cuts the flesh of the mandarin fish into a delicate pattern resembling a blossoming flower and then covers the tender white flesh in a mixture of starch and eggs. The fish is deep-fried until it turns a crispy golden brown before being arranged on the plate with its mouth wide-open and its tail bent upward. A sizzling sweet and sour sauce is then poured over the freshly fried fish as it is presented to the lucky gourmand. The golden-brown colour of the flesh and the shaping of the fish are designed to make it look like a squirrel, while the crackling sound of the hot sauce being poured over the meat is said to resemble a squirrel's chirrup." (Asia Cultural Travel website)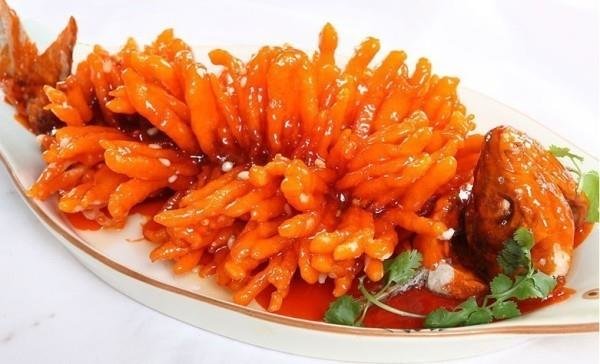 We have always had it with the sauce already poured on, so cannot comment on whether it sounds like a squirrel or not!
As Pingjiang Lu comes out close to the UNESCO World Heritage site of the Humble Administrator's Garden, it seemed rude not to pop in and treat Kat to what a Suzhounese Garden is like. It is the largest garden in Suzhou.
Friday was a day of culinary experiences as we then went to Hai Di Lao hotpot where we were reunited with Eleanor.
Saturday saw us take the train to Shanghai. We ditched our bags in the hotel and went for an explore in Tian Zi Fang, French Concession. Looking in tea shops, leather shops and finding hidden restaurants. Then we went onto Xintiandi for our experience of the trip…
Shanghai Insiders is a motorcycle and sidecar experience. We started in the daylight and ended in the evening. We chose a 2 hour ride, though I think you can do a 1 hour and 4 hour one.  We saw Shanghai both by bike and by foot. We were taken to the longtangs of Shanghai. Beijing has its hutongs which are low rise buildings, while the longtangs are 2 or 3 stories high. Many of the people living in the longtangs are waiting for the government to buy them up, rehouse them and then redevelop the land into the next sky scraper. But there are homes which are rented and if and when the government buys the land, they will unlikely have recourse to housing. The longtang we went to, was through a gate, it was like stepping into the past. People's homes were on either side of the alleyway and as we went at night, people were washing their vegetables in the outside sinks, cooking or playing cards. We were stared at, just as much as we were staring back. I didn't feel right taking many pictures. It was fascinating that this area of seeming poverty was literally a stone's throw from the bund and the financial and shopping areas of Shanghai. We seemed to do a circuit as we then came out at the other end, past some butchers, fishmongers, vegetable and fruit stores. Kat and Eleanor were given all the commentary about the areas we passed on the bikes from their English speaking guide. Martin and I had the Chinese biker who spoke no English. I didn't feel that I missed much as Kat filled us in. Sadly we couldn't ride along the Bund due to Rules and Regulations. The cloud had settled over the Pearl Tower anyway which made for atmospheric pictures, but we saw enough on one of the bridges that we stopped on. The bikes, both in the side car (so I am told) and on the back were relatively comfy. We had wrapped up warm, and if it had rained there was wet weather gear we could have borrowed. http://www.shanghaiinsiders.com
Our trip to Shanghai ended with a Champagne brunch at the Westin. Back in Suzhou, Kat looked after Eleanor for a day while Martin and I worked. Eleanor had a day off as the staff at the College had a PD day. We did, however, make Kat work a little bit more before she went off to Beijing…we got her to talk about science to some of our interested students! The next day she went off to Shanghai on her own and then off to Beijing.  
We had a lovely time staying in Suzhou and Shanghai for the April week. It was great to see Kat, but it also gave us the chance to plan in detail our summer holiday to New Zealand.